Scamalytics were the official sponsor of the Safer Dating Award at the inaugural European Dating Awards in Amsterdam last week.
The Awards are designed to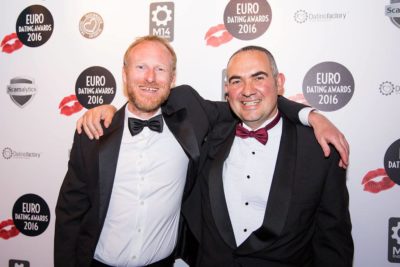 recognise the very best of the European Dating Industry, and the Safer Dating Award celebrates companies and charities working to promote consumer safety within the dating space.
This year's winner was the charity ScamSurvivors. Scamalytics founders Nick Tsinonis and Dan Winchester presented the Award on the night.
Dan Winchester was also a member of the European Dating Awards judging panel. He had the following to say "The UK Dating Awards brings together all areas of our diverse industry in a way that no other event does. It celebrates excellence, and gives dating sites, apps, bloggers, coaches, matchmakers – and our consumers – a clear idea of what they can expect from the very best in our industry. Now all these benefits are coming to Europe!"